Leadership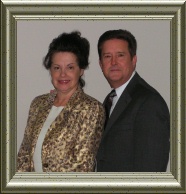 Dennis Bjornberg
Pastor Bjornberg and his wife Helen have been blessed with two wonderful children who are both grown and serving God at the New Life Evangelism Center. His Son B.J. is a vice president and branch manager for City Savings Bank in Leesville, Louisiana. His wife Jamie teaches in the Rosepine Elementary School in Rosepine, Louisiana. They have one son, Trae, born on June 22, 2007. His Daughter Melissa is the manager of an accounting practice in Leesville, Louisiana and her husband Brian owns and operates a paint and body shop in DeRidder, Louisiana. They have one daughter, Sydni, born on April 22, 2009.

Bro. Bjornberg comes from a diverse background having served his country proudly for 13 years both as an enlisted man and a commissioned officer in the United States Army. For over 25 years he has owned and operated a private accounting practice. On August 10th, 1986 God gave new direction to his life as he was born again of Water and Spirit in a great revival service at Rosepine UPC that was filled with miracles, signs and wonders. Soon after, God placed a call on his life and he began serving the Lord as Rosepine's youth leader in January 1987. He served in that capacity until December 1993 experiencing great revival among the young people. During that time Bro. Bjornberg began his ministry in earnest preaching revival services in churches across our fellowship. In January 1995 he was appointed assistant pastor serving under Bro. Gary Bankson at Rosepine UPC. He served in that capacity until God called him to pastor the New Life Evangelism Center in Natchitoches.

Since January 2000, Bro. Bjornberg has been serving faithfully as pastor of the New Life Evangelism Center. He and his wife have a passion and vision for revival in which lives will be changed and born again in the image of God. They want to see the city of Natchitoches, which is The City of Lights, become a city that is illuminated by the brightness and glory of Jesus Christ, the True Light.